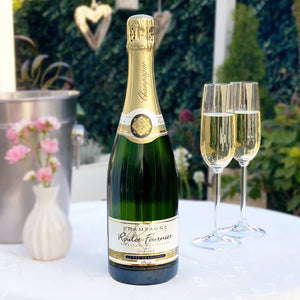 Roulot Fournier
Champagner Cuvée tradition Brut 0,75L
Regular price
€29,50
€0,00
individual price
€39,33
per
l
Tax included.
Shipping
calculated at checkout.
Das Champagnergut  Roulot - Fournier liegt nordöstlich von Reims.Der Familienbetrieb verarbeitet ausschließlich Reben aus eigener Produktion.Ganz in der Tradition gehen sie sehr schonend und nachhaltig mit ihren Weinbergen um.
In diesem Champagner fühlt man die Sorgfalt und Leidenschaft des Winzers. Der Champagner Tradition Brut ist sehr feinperlig, fruchtig und harmonisch abgestimmt.Mit sehr wenig Säure entfaltet er im Abgang seinen vollen Geschmack.
Ein herausragender Champagner!
Herkunftsland : Frankreich
Region : Champagne-Marne
Appellation : AOC, AOP Champagne
Weingut : Roulot Fournier, Festigny, Frankreich
Artikel : Champagner
Rebsorten : 95% Pinot Meunier(Müllerrebe), Pinot Noir(Schwarzburgunder)
Süsse : Brut
Versanddosage : 6-8 Gramm
Nennfüllmenge : 0,75 Liter
Alkoholgehalt : 12%
Trinktemperatur : 8°C
Verschluss : Naturkorken
Allergene : enthält Sulfite
Note: Edelschimmel
The mould coating is typical of the handmade sausages from Auvergne. Depending on the degree of maturity of the sausage, it is more or less strong, because the noble mold develops naturally during the maturing process and gives the sausage its incomparable taste. The natural mold can be consumed without restriction - but if you wish, you can also brush the salami slightly dry.
Note on the closure of the salami
The sausages are closed at both ends with a small aluminium clip. Please be careful when cutting and eating.
---