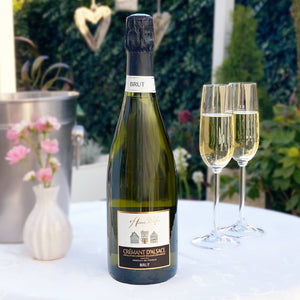 Henri Weber
Elsässer Crémant Brut 0,75L
Regular price
€13,90
€0,00
individual price
€18,53
per
l
Tax included.
Shipping
calculated at checkout.
Herkunftsland : Frankreich
Region : Elsass
Appellation : Appellation Crémant d'Alsace Controlée, AOC
Weingut : Henri Weber, Ingersheim, Frankreich
Artikel : Sekt
Rebsorten : Pinot Blanc, Auxerrois, Chardonnay
Süsse : Brut
Nennfüllmenge : 0,75 Liter
Alkoholgehalt : 11,5 %
Trinktemperatur : 6-8 °C
Verschluss : Naturkorken
Allergene : enthält Sulfite
Note: Edelschimmel
The mould coating is typical of the handmade sausages from Auvergne. Depending on the degree of maturity of the sausage, it is more or less strong, because the noble mold develops naturally during the maturing process and gives the sausage its incomparable taste. The natural mold can be consumed without restriction - but if you wish, you can also brush the salami slightly dry.
Note on the closure of the salami
The sausages are closed at both ends with a small aluminium clip. Please be careful when cutting and eating.
---